JUNBA2014
"Educational Quality Assurance in a Globalized Higher Education Environment
 ~ What might the future bring ? ~ "

*EVENT HAS ENDED
The Japanese University Network in the Bay Area (JUNBA) held JUNBA 2014 on January 9 and 10, 2014. This event brought together Japanese university leaders to exchange views on educational quality assurance in a globalized higher education environment from various perspectives. It was co-organized by the Consul General of Japan in San Francisco and the Japan Society for the Promotion of Science (JSPS), with support from Ministry of Education, Culture, Sports, Science and Technology-Japan (MEXT) and Japan External Trade Organization (JETRO) San Francisco Office. About 100 participants attended from over 20 universities, educational institutions and government offices in Japan and also from U.S. universities.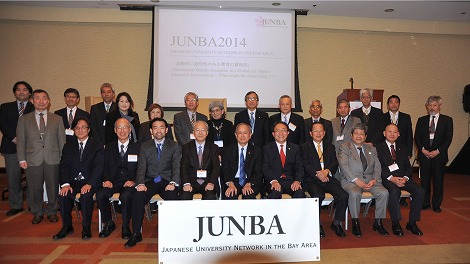 The symposium held on the first day began with opening remarks by Masato Matsuo, President of JUNBA, followed by lectures from presidents of two California State Universities. President Leroy M. Morishita, California State University, East Bay spoke about "Accreditation in U.S. Higher Education" and President Leslie E. Wong, San Francisco State University talked about "Work, Productivity and Acknowledgement in American Higher Education". Each presentation was followed by a conversational interview facilitated by a JUNBA board member and a Q&A session opened to the floor. Thanks to the two engaging presentations, we deepened our knowledge and curiosity regarding current educational quality assurance in U.S. higher education.

On the second day, Masato Matsuo, President of JUNBA, led the summit with the opening remarks, followed by Masato Watanabe, the Consul General of Japan in San Francisco who mentioned the significance of JUNBA in promoting the globalization of JAPAN. Then, Makoto Asashima, Executive Director of JSPS gave a greeting speech and Yukihiko Nunomura, Director-General of the Higher Education Bureau at MEXT, delivered the keynote speech. Japanese university leaders then exchanged their views and thoughts in a lively discussion which was divided into 3 sessions and coordinated by JUNBA board members. Finally, the President of JUNBA summarized the two-day JUNBA2014 event and emphasized on the necessity and importance for Japanese universities to continue holding such events to communicate with each other and to discuss the promotion of educational globalization for stronger competitiveness.

In addition, JUNBA core member universities held a poster session in the morning of each day to present detailed information on their activities and efforts. The young Japanese university staffs, who are participating global professional development programs in various institutions in the U.S., also prepared posters. These programs, called the Long-term Educational Administrators for International Exchange Program (LEAP), supported by MEXT and the International Program Associate Program, supported by JSPS, give opportunities participants for working at U.S. universities or JSPS oversea branch offices as trainees. Through this session, many participants eagerly listened to each presenter's explanation about their distinctive activities, for example, student exchange programs, development of academia-industry relationships, staff development and faculty development for Japanese universities, and so on.

The successful completion of both days of JUNBA 2014 was achieved through the support and cooperation from many different individuals and organizations. JUNBA is planning to hold a similar event next year to promote the enhancement of education and research activities of Japanese universities.


| | |
| --- | --- |
| Date & Time: | Day I Thursday, January 9, 2014: 11:00 a.m. -5:30 p.m. |
| | Day II Friday, January 10, 2014: 8:30 a.m.- 5:45 p.m. |
| Venue: | Hilton San Francisco Airport Bayfront |
| Organized by: | JUNBA (Japanese University Network in the Bay Area) |
| Co-Organized by: | Consulate General of Japan in San Francisco |
| | Japan Society for the Promotion of Science (JSPS) |
| Supported by: | Ministry of Education, Culture, Sports, Science and Technology in Japan (MEXT) |
| | JETRO San Francisco Office |
Symposium (Language: English)
Thursday, January 9, 2014
| | |
| --- | --- |
| 11:00 - 12:00 | Poster Session by JUNBA Core Member Universities |
| 11:00 - 13:25 | Registration |
| 13:25 - 13:30 | Opening Remarks |
| | Masato Matsuo, President of JUNBA |
| | Director, Kyushu University California Office |
| 13:30 - 14:30 | Lecture I "Accreditation in U.S. Higher Education" |
| | Leroy M. Morishita President, California State University, East Bay |
| | (CSUEB) |
| 14:30 - 15:00 | Conversational Interview and Q & A |
| | Moderator: Tatsuro Yoneda, Vice President of JUNBA |
| | Fukuoka Institute of Technology California Office |
| 15:00 - 15:30 | Commemorative Group Photo and Coffee Break |
| 15:30 - 16:30 | Lecture II "Work, Productivity and Acknowledgement in American Higher Education" |
| | Leslie E. Wong President, San Francisco State University (SFSU) |
| 16:30 - 17:00 | Conversational Interview and Q & A |
| | Moderator: Maria Domoto, Director of JUNBA |
| | Obirin Gakuen Foundation of America |
| 17:00 - 17:30 | Symposium Closing and Guide to the Venue of Academic Exchange between Japanese and U.S. |
| 18:30 - 20:30 | Reception for Academic Exchange between Japanese and U.S. Universities at the Official Residence of the Consul General of Japan in San Francisco (Invitation Only) |
| | Co-Organized by: Consulate General of Japan in San Francisco |
| | &nbsp JSPS |
Presentation Slides by Leroy M. Morishita President, CSUEB
Presentation Slides by Leslie E. Wong President, SFSU
Presentations Summary by JUNBA Board Member

Summit (Language: Japanese)
Friday, January 10, 2014

| | |
| --- | --- |
| 08:30 – 09:45 | Poster Session by JUNBA Core Member Universities |
| 08:30 – 10:00 | Registration |
| 10:00 – 10:30 | Opening Remarks |
| |  Masato Matsuo, President of JUNBA |
| |  Masato Watanabe, the Consul General of Japan in San Francisco |
| |  Makoto Asashima, Executive Director of JSPS |
| 10:30 – 12:00; | Keynote Speech |
| |  Yukihiko Nunomura, Director-General of the |
| |  Higher Education Bureau at MEXT |
| 12:00 – 13:15 | Lunch Break |
| 13:15 – 14:00 | Symposium Summary |
| 14:00 – 15:10 | Discussion among Japanese Universities Ⅰ |
| 15:10 – 15:25 | Coffee Break |
| 15:25 – 16:15 | Discussion among Japanese Universities Ⅱ |
| 16:15 – 16:30 | Coffee Break |
| 16:30 – 17:20 | Discussion among Japanese Universities Ⅲ |
| 17:30 – 17:45 | Summary |
| 18:00 – 20:00 | Networking Reception |
Presentation Slides by Mr. Nunomura, MEXT(Japanese)
Material for Discussion among Japanese Universities